The Caffé opened its doors in June of 2006 as Ogunquit's original Italian Caffé. We started small, serving Panini, salads, authentic Italian desserts, house made gelato using authentic ingredients from Bologna Italy, and great espresso and coffee drinks using Danesi Coffee. After our first season in business we realized that demand was such that we needed to expand our menu and our dining area. We purchased our stone pizza oven, doubled our seating capacity and expanded our menu to include Pizza, Italian entrees, wine, beer and spirits along with our popular Panini, desserts, coffee and gelato.
We also began to build our great team. Always wanting to keep an international flair to the Caffé, we decided to invest in recruiting students from Europe as well as individuals from the USA. Each year we reach out to local and international colleges and universities to build our team. We are fortunate that over the years we have welcomed team members from Poland, Romania, Serbia, Bosnia, Lithuania, Bulgaria, Jamaica and of Course the United States. This mix of team members really provides a unique atmosphere where we all learn about different cultures and provides our dining guests to experience a little bit of Italy right here in Ogunquit.
Apply Today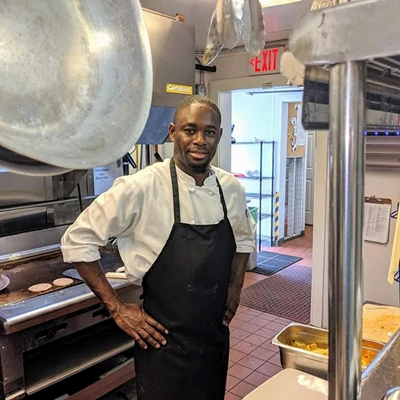 Donovan Fraser Executive Chef
Donovan Fraser grew up in a small tourist town in Jamaica called Ocho Rios. Much like Ogunquit, they welcome visitors for their season, which is exactly opposite ours! During high school Donovan became interested in cooking. Following graduation he entered the Sandals Culinary Training program in Jamaica which included regular coursework and on the job training at the Sandals resort. Following the completion of his training he remained with the Sandals Resort for two years, honing his culinary skills.
After his days at Sandals he decided to travel and see the world and found his way to Ogunquit and worked for three summers at various restaurants in town and in 2005 began his career at our sister property Five-O Shore Road Restaurant. During his tenure as Sous Chef, Donovan worked closely with Five-O's accomplished executive chefs including James Walter, Five-O's current Executive Chef and past executives Zach Crosby and Will Foden.
While we are an Italian restaurant, Donovan always tries to incorporate as many local products in his recipes as possible, working with many of the fantastic local purveyors.
Donovan is a very positive, self motivated and passionate individual. He creates a friendly and fun environment where he and his team can produce great meals for all of our guests while enjoying their work in an active kitchen!